DO WHAT YOU LOVE,
LOVE WHAT YOU DO
LEADERSHIP COACHING FOR HIGH-ACHIEVING WOMEN
DOES YOUR LIFE FEEL
AS GOOD AS IT LOOKS?
You're driven, ambitious and motivated. Constantly looking to grow personally and professionally. Yet you often find yourself doubting your own abilities and strengths. There's too much on your plate and lately you struggle to keep up. You thought that you'd be happier after achieving so many milestones in your life. Yet there's always another goal in front of you.
You know there HAS to be a different way – because in general you love to work and make an impact. You just want to feel different. Excited. Motivated. Driven. You have so much energy, but lately you feel drained. You know there's a next level waiting for you personally and professionally. I'm here to help you gain clarity, win confidence and take action towards your biggest goals – all while feeling great about yourself, your progress and your life! I help you STRIVE SATISFIED.
I AM WORKING WITH THESE CLIENTS
You recently got promoted into leadership. You're grateful and excited for the opportunity. Yet you feel the responsibility is weighing on you. How do I lead a team? How do I establish myself among management? How do I position myself? And do I really have what it takes?
I help you understand who you are as a leader – your strengths, your values, your mission, and position yourself respectively.
As leader of your company you carry a lot of responsibility. Expectations are high – especially from yourself. You feel chased by your inbox, your to do list, your responsibilities. Work used to feel like fun. Lately it feels like a burden.
I help you get back into the driver's seat of your life, establish healthy boundaries, leverage recovery as a tool for high performance and increase your overall joy – at work and in life.
For your company it's important to strengthen women in leadership positions. To give them the support, tools and mindset they need to lead with confidence, bring their teams to the next level while taking care of their mental health. 
With 27% of women showing signs of burnout and leaders becoming younger, self-leadership coaching is a game changer to support your female leaders along their journey.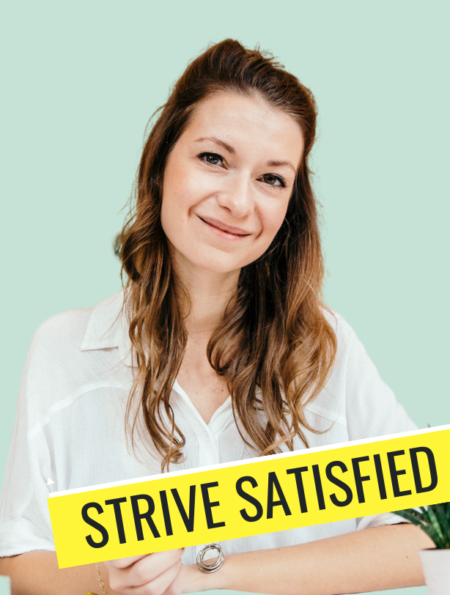 I'm a Self-Leadership Coach and passionate about supporting high achieving women to create a life that feels as good as it looks.
I'm proud to say that women I work with are clearer about their goals, know their strengths, have confidence in themselves and establish routines that help them to perform on a high level sustainably.
After experiencing burnout and recovering from 'work addiction' myself, it's my mission to support women to find a balance between achievement and fulfilment. Because leaders who STRIVE SATISFIED are not only performing better, but also experience more joy, flow and fulfilment.
Imagine a life where you feel excited about your goals, confident in your abilities and consistently take action towards your most important milestones.
In my holistic 1:1 Coaching we'll uncover what you need to reach your goals while feeling proud about yourself today. After having worked with many female leaders I can promise you: you'll be a happier person AND a better leader for yourself and your team.
You have an important decision to make and are not sure what's the best option? An important event is coming up and you feel nervous?
Book a 90 minute SOS Session where we dive deep into the topic that's keeping you awake. No matter if it's the yearly feedback meeting with your boss, a job decision, a salary negotiation or preparing for an important pitch – we'll focus on your desired outcome and I'll do everything to support you to reach and surpass your goal!
Being a confident female leader doesn't happen overnight. While a lot has improved over the last years, women still face challenges that can hold them back from fully realizing their potential and bringing your organization to the next level.
In empowering workshops and group coachings we concentrate on performance-increasing topics such as imposter syndrome, saying 'no', positioning yourself as a leader and making your own mental health a priority while 'doing it all'. 
"My goal was to strengthen my positioning as a leader as well as my influence internally and externally. During the coaching with Christine, I always felt understood and together we've developed very individual strategies that really fit me. I'm still using the tools and methods months later."

- Alina Jansen, Vice President, hy - the Axel Springer Consulting Group

I met Christine during a time where I needed guidance about my next steps - personally and professionally. Chrissi helped me to define my personal mission, identify my next steps and take action. I enjoyed every session we had. She's empathic and at the same time it's fun to talk to her. She challenged me to look at things I didn't know were holding me back. After our sessions I always felt energised and motivated. I can warmly recommend her as a coach to every women who wants to create a life that feels true to her.

- Katharina Wronka, Founder & Customer Success Lead

With Christine I can talk openly & transparently about my challenges. She responds very individually to me and supports me in all areas of my life to develop my potential. In my eyes, she is not only a coach, but a companion that I warmly recommend to every woman who wants to live her life truly fulfilled and with impact. She has her own style and stays true to herself. She is honest and teaches you to recognize your strengths, strengthen them and use them as superpower in your life. Thank you Christine! I'm looking forward to the coming years with you.

- Sara Kukovec, CEO, witura

During our sessions we looked at my different challenges from different angles and I was able to identify solutions. If I had difficulties, she immediately had a hint as to how I could reach my goal. What I found most surprising was that she helped me identify a topic that I wasn't even aware of. I recommend Christine unreservedly as a coach for private and professional topics. She is very empathetic, remarkably creative and has extensive methodological knowledge.

- Mareen Welke, Project Coordination Internationalisation, BHT

With her compassionate and insightful personality, Christine has helped me in various areas of my life. Professionally, she's given me a noticeable boost and on a personal level, she's helped me gain confidence and clarity. Since working with her I overall feel more structured and focused. I wholeheartedly can recommend working with her. Thank you for everything!

- Maria Murnikov, Agency Founder & Senior Copywriter

The coaching with Christine was extremely helpful for me in a crucial professional phase. Christine asked me exactly the questions I needed - and helped me to get more clarity in my questions in a short time. Thank you very much Chrissi!

- Lisa Steinmann, Head of Talent & Leadership, PERI

Christine is excellent at guiding me towards focusing my life goals and creating a structure and a plan to achieve them through our sessions, tailored weekly exercises, and individual actions. I always come away from our sessions with a lot of energy and clarity and I can honestly say that working with her is one of the best decisions I've made for myself this year.

- Emily Besa, Founder & Personal Stylist

"It was breathtaking how quickly I could perceive visible and tangible results and changes after starting our coaching. Chrissi creates a very trusting atmosphere with her warm-hearted manner, in which you feel encouraged and safe to open up. She asks exactly the right questions in order to be able to arrive at solutions and sustainable insights on your own. Personally, Chrissi has helped me to set my focus more purposefully in regards to my ambitions and to sustainably strengthen my self-confidence regarding my skills. I couldn't have asked for a better coach by my side, because thanks to her I finally feel good enough without losing my drive." - Jessi Lochmann, Head of Marketing

"Christine is a great leadership coach. I'm very ambitious and driven. That resulted in a high work-load, few breaks and the feeling that I never do enough. Chrissi helped me gain confidence in my abilities and to feel proud of my accomplishments. I redesigned my calendar to focus more on strategic topics that move the needle and make space for time to recharge. It feels like a weight has been lifted off my shoulders. I enjoy working again and also have room for other areas of my life.."

– Katharina Ilgner, Managing Director

"Christine is a great life coach. I came to her at a crucial time in my life when I was moving to another country and starting a new business, and she made the process so manageable. She helped me structure myself so that I felt focused and motivated throughout all the changes in my life. She is so dedicated to what she does and you can feel her passion for her work. Not only are her methods and tools incredibly helpful, but she is also a genuinely lovely person. I couldn't have asked for a better coach.."

– Selina McCarthy, Head of Talent & Operations
If you scrolled until here, chances are high that we should speak! Schedule a free 30-min Discovery Call with me where we can talk about how coaching can help you reach the next level in your life – professionally and personally.
0176 62 155 765
me@christinemuench.com
Kastanienallee 19-20, 10435 Berlin