I BELIEVE IN OUR DESIRE TO BECOME OUR BEST SELFS, TO ENJOY LIFE TO THE FULLEST, IN GIVING BACK AND SHARING LOVE 
If you – kind of like forever – felt like you're meant to live a life that's different from the life's you've known – from your parents, peers, and what you usually see around you – we share the same root. 
Deep down I always knew I didn't just want to work for money or have a mediocre relationship.
Probably that's why as a kid I was obsessed with movies, fairy tales and superhero stories. I absorbed the journey's of our childhood heroes that went through obstacles, hardships and pain to eventually live happily ever after. 
WITHOUT TAKING OWNERSHIP AND CONTROL OF YOUR LIFE, YOU'LL END UP LIVING A LIFE YOU NEVER REALLY ASKED FOR
Yet without a great level of awareness of what's possible once you take ownership of your life, I more or less followed the standard path of a good student. 
I finished school with an A-level degree, studied economics and entered the workforce as a marketing intern in a solid B2B tech-company where I got promoted twice within my first year.
In between I had little outbursts of my urge to live a different life. That's why I went to work as an au-pair in the UK after school, decided to go to Bali to finish my degree, and worked as a fundraiser during summer break to sell charity subscriptions in pedestrian areas.
When I was asked to become teamlead at age 26, I felt accomplished and proud. That feeling lasted 2 days. 
NOBODY WILL CHOOSE YOU. YOU HAVE TO CHOOSE YOURSELF TO BE YOUR OWN SUPERHERO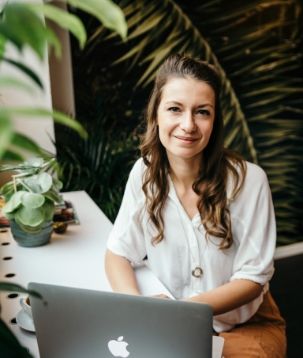 While deciding if I should accept the promotion, I started getting more and more nervous. I felt somebody was putting brick stones on my chest and I had no way of stopping it from happening. It was only much later that I realized I secretly was still waiting for my secret quest, my letter to arrive, my mission that somebody would give me and that would kick off my own superhero story. 
Yet, at that moment in my life, I decided to take ownership and leave the beaten track. Without knowing what will happen next, I quit my job and started working as a freelancer.
YOU NEED CLARITY, PURPOSE AND GROWTH – OTHERWISE FREEDOM FEELS LIKE A ROLLERCOSTER YOU HAVE NO CONTROL OVER
The following 2 years I worked in marketing, branding and project management for a wide range of companies and agencies. 
I had the freedom of working from home, getting up when I want, decide with whom to work and what projects to work on – and there it is, the one-sided truth of how AWESOME it is to work as a freelancer. 
The reality was: I was barely earning any money which made me take any project that came my way, I didn't know where I was working towards to and I felt I need to know everything that's related to marketing, so I took plenty of different projects which didn't allow me to grow substantially. 
I didn't have a clear vision of my life and I didn't feel like I'm using the time I've been giving to make a difference. With the lack of clarity, purpose and growth the nervousness came back. 
FOLLOW YOUR STRENGTHS, NOT YOUR WEAKNESSES. FOLLOW THE JOY, DON'T FOLLOW THE MONEY.
The turning point of my career was when I decided to stop working on a variety of different projects, but solely concentrate on what comes easy, natural and what my clients request over and over again – writing.
I was sick and tired of trying to figure out how to do all the technical marketing stuff that I found boring and complicated. So I decided to take a break from all projects that felt like a lot of work and solely focus on what's comes natural and easy to me. I decided to be a copywriter – and this was one of the turning points in my life. 
I followed my strengths (instead of trying to proof to my ego and the world that I'm good at everything) and I got rewarded for that decision. Within two months I got three new clients who solely paid me for writing high-quality content. Plus, I was able to quadruple my income within 3 months and – for the first time in my freelancing career – didn't have to worry about money.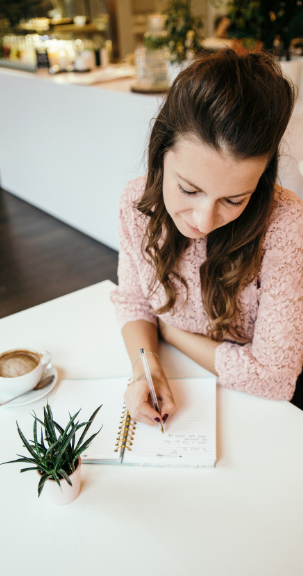 WITH MY BASIC NEEDS COVERED MY INNER VOICE GOT LOUDER AND LOUDER "THERE'S MORE OUT THERE FOR YOU"
Once I saw the magic that happens when you lean into your strengths, my inner voice kept getting louder and louder: "Chrissi, there's more out there for you to do". While I was good at writing, it didn't feel like I've discovered my superhero quest just yet.  
I've started to ask myself the biggest question of my life: "What is my purpose?" Finding the answer became my quest. Self Development and Personal Growth books my bibles. As I was never short on business ideas, I came up with several possible answers to my big question. Thankfully, I've learned A LOT during the first years of my freelancing career, and instead of overthinking it, I went straight into action.
CLARITY COMES FROM TESTING YOUR IDEAS 
–
NOT THINKING ABOUT THEM.
Getting closer to purpose
Creating a Copywriting Course
Selling 'Share Love' Postcards
Working as Life Coach for Women
I gave myself the next 6 months to try out different ideas. First, I've created a landing page for a copywriting course for founders – just to realized I wasn't excited about creating the course. NEXT. 
Then, I joined a non-profit that focuses on equipping young girls with the mindset and skills they need to succeed. While I absolutely love their mission and still support them, I realized I want to create a business for profit and make money. NEXT.
In my third attempt I got really close! I designed Christmas postcards that help people share their love and appreciation with people they hold dear. People loved it. Yet, I realized I don't want to be a sole product business. I need something more personal, I want to be tied to the brand. NEXT.
Finally, after all that testing, I knew I had to follow my inner voice that kept getting louder and louder: "Chrissi, you need to become a coach". Not wanting to admit that I want to become 'another one of those life coaches', I signed up for the Robbins-Madanes-Training Program – just for my own benefit. One week later, I watched the first training video and I cried, I cried like a baby, because I knew THIS IS IT. This is what I need to do.
DON'T ASK 'WHAT'S MY PURPOSE?' ASK 'WHAT WOULD I ENJOY DOING' AND THEN TEST IF ITS TRUE.
Fast forward to today, I've helped hundreds of women who want MORE from life to create a life they're truly excited about. Women who want to have a fulfilling career, meaningful relationships, the confidence to turn their dreams into plans. Women like you. 
Because we women are better in tribes, sitting around the fire, my mission is to create a strong community where we support each other along our individual journeys! By attending one of my workshops, subscribing to my weekly newsletter with free video trainings, or booking 1:1 coaching you'll join this community! 
READY TO BECOME THE WOMEN YOU'RE MEANT TO BE AND BUILD A LIFE YOU LOVE?
YOUR WEBINAR 'UNLOCK YOUR PURPOSE: FIND WORK THAT FILLS YOU'
Register for the free webinar and find out how to find your calling!