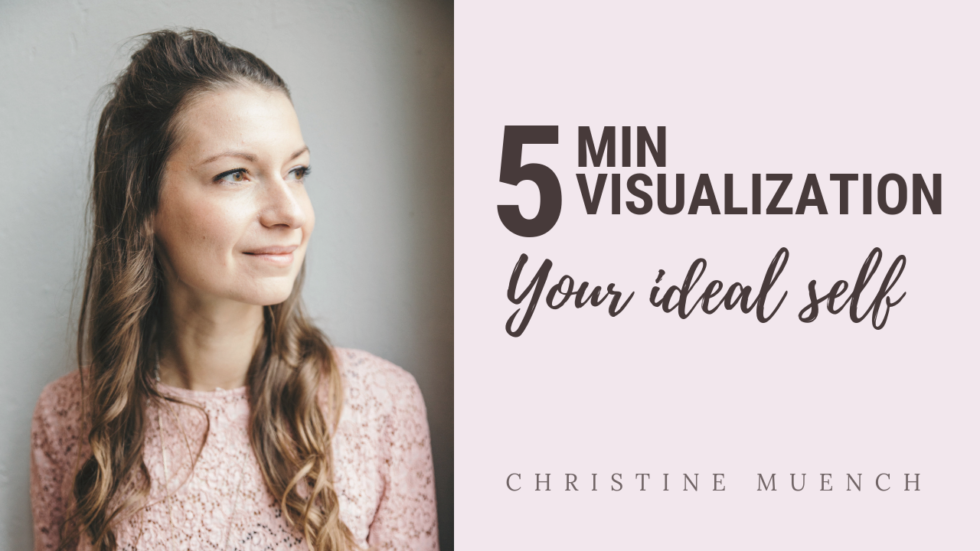 Become Your Best Self in 5 Minutes (Visualization)
Today I'm sharing with you one of the most powerful tools I've discovered for myself: The power of visualization. By visualizing any future scenario you can get into a powerful state that helps you prepare for a meeting, unlock positive emotions and attract the future you want for yourself.
Visualize your best self
This week, we'll be focusing on visualizing the qualities of your best self and becoming her. We all carry the best version of ourselves inside us. Go through this 5 min visualization to active that part of yourself, feel her strength and presence.
In this video, I'm guiding you through the process. Personally, I'm using this technique every morning to get myself into a higher, more positive state of mind.
Even when I'm waking up worried, or in a funk, this can help me to unlock my joy, confidence, and passion to turn my mood around.
The Power of Visualization
The idea of visualization is to create a vivid image of any future scenario in your head. You can use visualization in different ways and for different purposes.
Here are some of my favorite ways to use visualization:
Preparing for a meeting / workshop: Whenever I'm hosting a workshop or prepare for an important meeting, I use visualization. I simply picture the event as vividly as possible in my head. I imagine the room I'll be in, the people I'll be with. What I will say and what questions people might ask me. I imagine the toughest questions I could be asked, and what I would say. This way, I feel incredibly prepared for when the "real" event is taking place.
Getting excited for the future: I've spoken about this before. A strong vision for your most exciting life is SO important to pull you and keep you going. You can use visualization in a real fun way and imagine how it will look when you turn your dreams into reality. I've imagined how I'll sign my first books that are sold in a bookstore, how I'll host an event with 250 attendees, and how I'll invite my girlfriends to a fun weekend trip in a private jet.
Put yourself into a powerful state: You can bring yourself into any desired emotional state by visualizing it. One way to do it is to remember moments from the past where you've felt powerful, confident, happy and fulfilled. Another way to do it is to picture your ideal self – the best version of you – and access it. Try it out by watching the video!
Feel your best self
Now I'd love to hear from you, how did it feel to embody your best self? Did you notice a change in your mood? 
Also, I'd be super curious to hear what other visualizations you'd be curious to try out? I'm happy to create more of these as I really think they're one of the most powerful tools we can access simply by using our mind.
Keep becoming your best self! You've got everything you need within.
With SO much love 
Chrissi